Essay writing is one of the best ways for college students to present their opinions and prove their writing skills. Generally, the students will often be given assignments on college essay topics during their scholarly life. Other than the essay writing assignment, as a part of the admission process, some educational institutions also ask the students to write an essay on interesting college essay topics. Basically, colleges or universities evaluate how the students have written the essay and shortlist the applications.
To write an essay or an article, a good topic is all we need. Usually, for college applications, you will be asked to write on general topics or personal essay topics. But for regular college essay writing assignments, instead of proposing a list of ideas, sometimes your instructors will ask you to select an impressive college essay topic of your choice.
Right now, are you looking for the best college essay topics? Do you know how to identify a good essay topic for the college application? Continue reading this blog post and get exclusive ideas.
Tips for Choosing a Good College Essay Topic
Choosing a good college essay topic is a challenging process to deal with. However, you can still easily spot the topic, if you have an idea of how to narrow down broad topics. Whenever your instructors let you choose the topic, ask yourself the following questions during the topic selection phase.
What topic interests me the most?
Is this topic relevant to me?
How meaningful is this topic to me?
Based on your answers to the above questions, you can narrow down your interest and find the best topic. Always choose a topic from your area of interest. If you pick a topic from the area that you are passionate about and have knowledge of, it would be easy for you to share your ideas confidently. Mainly, to make your readers believe your opinions, your essay should contain realistic examples or evidence. Hence, try to consider a topic that is relevant to you. Also, the topic you choose should be meaningful and enjoyable to your readers.
Remember, the college essay topic you choose is said to be good only if it satisfies the following.
The topic should match your interest.
The topic should be relevant to you.
The topic should be meaningful to you and your readers.
The topic should be neither too broad nor too narrow.
The topic should provide the necessary scope for discussion.
The topic should let you share your own ideas without any restrictions.
The topic should have strong evidence or examples supporting your major points.
The topic should stand in line with the essay writing guidelines or specifications shared by your instructors.
List of College Essay Topics and Ideas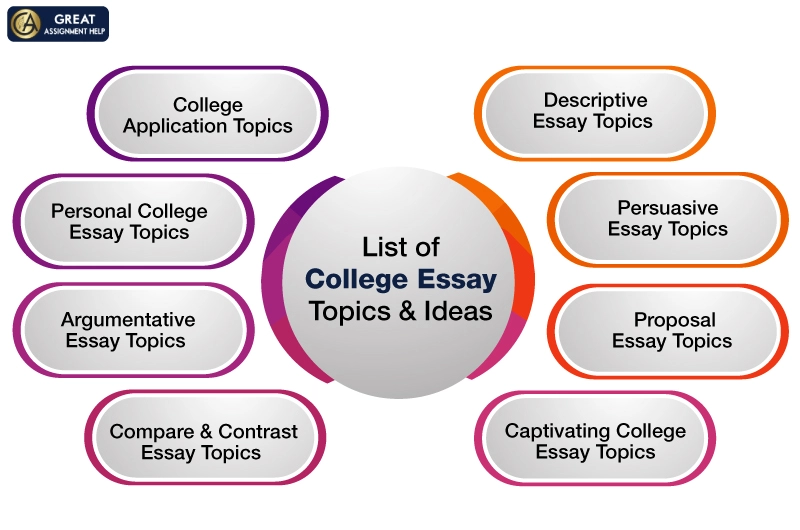 We all know how difficult it is to search and find the best essay topics. So, to help you, here we have composed a list of the top college essay topics. Go through the entire list of ideas and find a topic that is suitable for writing your college application or essay writing assignments.
Essay Topics for College Application
Write about the challenges you faced in life.
What difference do you want to make in the world?
Why have you chosen this university/college/course?
How will you make people's life easier?
The lessons learned from your success or failure.
An event where you mediated an argument between two persons.
Write about an extracurricular activity that is meaningful to you.
What kind of facility or equipment do you wish to use on campus?
A problem you solved at school while working as a part-time employee.
An exciting study abroad program you are looking forward to.
Personal College Essay Topics
Narrate an important moment in your life.
Describe a person you admire.
A book that you love the most.
Share your personal story.
What motivates you?
A bad habit you have kicked.
Do you love learning languages?
What is your most enjoyable hobby and how it fits into your day-to-day routine?
A TV show you genuinely liked but that is less appealing to you now.
Documentaries that made you pay attention to a social issue happening in the world.
Simple College Essay Topics
How do you define home?
Discuss a family tradition that embarrasses you.
How will you navigate your identity as a multiracial, multi-ethnic or multilingual person?
Where do you see yourself in 10 or 20 years?
Has discrimination affected you?
As a female, how will you handle a male-dominated field?
How did you overcome the particular anxiety or phobia you had?
Who is your role model?
As an individual, how are you helping the world?
Advice you would give to your younger self about friendship.
Argumentative Essay Topics for College Students
Do school examinations evaluate memory or intelligence?
How much teamwork should a student do in school?
Are schools giving students enough opportunities to show their creativity?
How can you handle students who misbehave?
Does a child of an illegal immigrant have a right to public education?
How important is Arts education?
Is it okay for schools to use corporal punishment?
Are girls being pressured too much to have a 'perfect' body?
Does it make sense for schools to award cash bonuses for high scorers on tests?
Should cyberbullying be punishable by schools?
Do tests accurately measure your abilities?
Is it okay to skip the senior year of high school?
Are you in favor of a longer school calendar?
Can exercise help students perform better in every class they attend?
Who should have access to student records?
Outstanding College Essay Topics
How to make students more responsible?
Describe an experience that forever changed your life and your outlook on life.
What is your career plan after your college graduation?
What are your long-term goals in life?
If you were given the ability to change one moment in your life, would you do so? Why or why not?
Choosing the right idols for teenagers to encourage positive lifestyle changes.
Banning social media: can it be a solution to reduce suicides?
If you were given a chance to travel back in time to any period in history, where would you head to and why?
Describe the most unique or special skill that differentiates you from everyone else.
How can an average person help orphans without spending money?
Compare and Contrast Essay Topics for College Level
Living in a big city or staying in a village
Which is harder: living up to other people's expectations or following your own dreams?
Compare and contrast life as an elderly person with life as a small child.
Gender Issues: Different Mental Processes of Females and Males.
Is being a freelancer a good alternative to being a full-time employee?
Anthropology versus Religious studies
Which is easier: being a boy or being a girl?
Compare and contrast the importance of speaking well versus listening well.
Feeling sad versus feeling lonely
Driving a car or riding a bus
Electronic books versus printed books.
Traditional Education or Remote Learning
Compare and contrast home-schooling with public school.
Fascism and Nazism: Are These Two Concepts Different or the Same?
Coffee or tea
Which determines success: EQ or IQ?
Camping in the woods versus resting by the sea
What is more productive- visiting a library or learning at home?
Share the connection between education and employment.
Professional or Vocational courses- which is better?
Is it worth saving money or not?
Seminars versus Webinars which is more effective?
Which is better- private college or public college?
Written learning versus oral learning
Gaining knowledge from books or the internet.
Descriptive Essay Topics for College Students
Describe your perfect fantasy vacation destination.
Describe one of your most embarrassing moments.
Describe the first time you met one of your friends.
Describe your lucky object.
Describe a place that exists only in your imagination.
Describe the strangest person you've ever met.
Describe a place where your pet likes spending time.
Describe a person you envy.
Describe what the first house on the moon would look like.
Describe a famous person that you would like to meet.
Describe a time that you felt scared.
Describe your favorite piece of furniture where you like to spend time and relax.
Describe yourself to someone who has never met you.
Describe any help that you have received from a stranger.
Describe a haunted place you know.
Persuasive College Essay Topics
You should stay true to yourself in all situations.
Developing self-confidence requires embarrassing moments in life.
Youth should make their own decision whether or not to join the military.
A video game can be an educational tool.
Ads that focus on kids should not be allowed.
Distance learning is not for all.
The calorie content of meals should be disclosed.
The most valuable personal quality is kindness.
Life can be lived spontaneously for any number of reasons.
The current education system needs reform.
Proposal Essay Topics for College Students
How to teach kids about winning and losing in sports and life?
How to eliminate the erosion of trust in business for good?
How to get out of a bad friendship?
Financial education should come to children from parents.
Should children in high school learn religious studies as a part of the curriculum?
Can money motivate you to work better?
How can teachers make classes more fun and increase student engagement?
How to reduce the rates of underemployment?
The best methods for handling manipulative people.
How to spot and interpret social media dishonesty?
How to cultivate the most productive sleep pattern for your needs?
What should an individual do to combat global climate change?
In what ways does the educational process depend on both students and teachers?
How should corporate companies reward employees, apart from paying money?
Paid internships as a solution for youth unemployment.
Interesting College Essay Topics
Global Warming: Is it real or is it propaganda?
Types of social evils in poorly developed countries.
Explain why tolerance in the workplace is crucial.
What historical event do you think was the most important?
Advantages and Disadvantages of Globalization
E-commerce strategies for the attraction of new customers.
Cats vs. dogs: which ones make better pets?
What is Instagram doing to modern photography?
How does "fake news" change political and social life?
Does traveling help you to love languages?
How do you handle bullying in schools?
To Be a Politician: Art or Talent?
An example of a rebellion from your life.
A negative example of cowardice.
Should more rights be given to immigrants?
Captivating College Essay Topics
What is more critical: wealth or happiness?
Successful people without formal education.
The best advice you have received in your life.
Effective ways of saving money.
How do you leave your comfort zone?
Animal characteristics in people.
Participating in team sports helps to develop good character.
High school graduates should take a year off before entering college.
What does your ethnic identity mean to you?
In what ways can more self-confidence improve your life?
What book would you recommend to everyone?
How are you unique?
Choose an invention that you think has had the most negative impact on our world.
Describe the intellectual challenges you would like to solve.
What impact do sports have on your life?
Explain a quote that describes a lot about you.
How much does freedom matter in your life?
Is it important to be crazy about fashion?
Tell a story that directly or indirectly illustrates the type of person you are.
Your attitude towards getting a tattoo.
Does listening to music help you complete your homework faster?
How much money do you need for happiness?
How teachers can use more artistic supporting materials in class?
How to lower the divorce rate through matchmaking?
What is the best way to raise respectful teenagers?
Creative College Essay Topics
What is the best way to use your video gaming skills to get a good job?
Is there any truth behind infomercials?
Students with little attention spans are the most successful students.
Mistakes that can no longer be corrected.
Is it necessary for every teenager to own an iPhone or a smartphone?
A project or volunteer effort you would lead to improving your community.
Why should your parents support your gaming?
Does your surname mean anything to you?
How to identify the fake news that exists in social media?
An important social or political issue that you would fix if you had the means.
The Bottom Line
From the list of the best college essay topics suggested above, pick any topic that is convenient for you to share your thoughts or ideas. Especially when choosing an essay topic for college application, never consider the topics filled with controversies, tragedy, humor, etc. Because choosing topics with highly emotional elements, may spoil the reader's impression of you. Also, in certain instances, the essay topic that is exciting to you will not be appealing to your faculty or admission panel. Hence, during the topic selection, always be careful and pick a topic that adds more value to you than your content.
In case, you are unaware of how to write an engaging college essay, quickly reach out to us. We offer high-quality, plagiarism-free essay writing help to college students at an affordable price.
To avail of our service, just fill in your requirements in the order form and submit it. Once you place the order, based on your specifications, our team of professional assignment writers will provide you with reliable essay writing assistance without missing the deadlines.